Delicious Treats And Awesome Groot Meets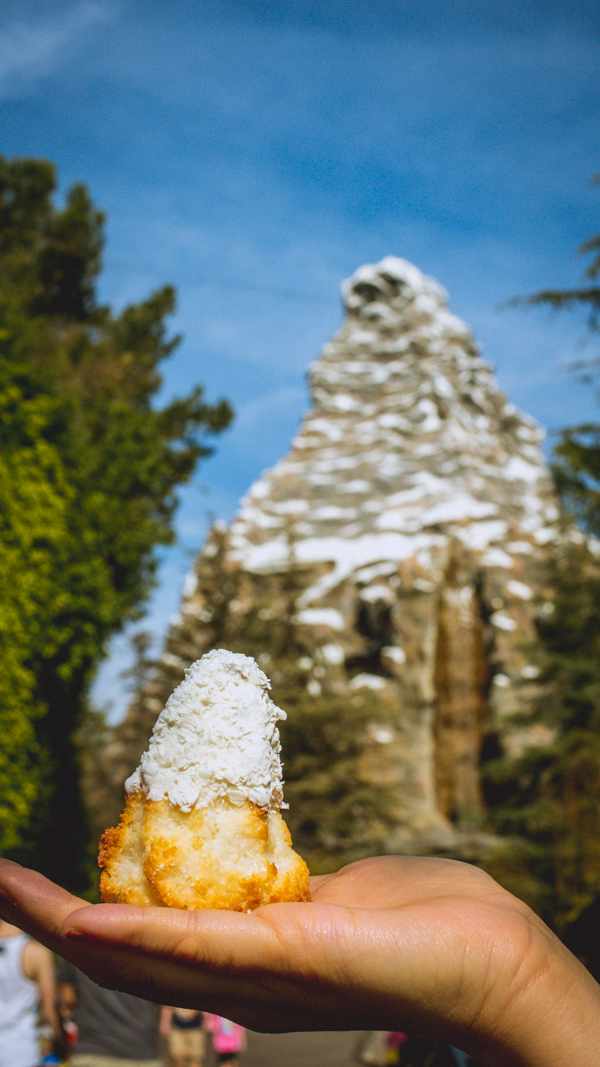 ID:
TMS-3848
Source:
bleedingcoool.com
Author:
Mary Anne Butler
Dateline:
Posted:
Status:
Current
Eating at Disneyland could be a full-time job all on its own - one that I attempted to take a temp position on with my two-day trip to the House of Mouse. I've spoken previously about why February is a wonderful time to visit the Anaheim park, some of the specialty dishes available right now, and another pass on some of the usual snack suspects.

This trip was also interesting in that all of Main Street looked like Disney does Berlin. That wall goes all the way down from the train station to the castle, with a few breaks to allow street crossing.

Anyhow, on to the food! We started our second day in the parks at California Adventure, mostly because I really wanted to hit the Guardians of the Galaxy Mission: Breakout ride while wearing my Rocket Raccoon hoodie. Yes, it's a child's size, but I'm a small mammal. (Thank you again to Sean and Laura for the gift - I love it so so much!) Something I really wanted to purchase for myself was the baby Groot sippy cup, because OMG IT'S ADORABLE.

While the cup isn't "food' per say, I think it counts. 5 out of 5 - I want an army of them on my house bar.

After the ride, which of course is one of my favorites in the park (the original Twilight Zone Tower of Terror was before the redesign, so this was just icing on the cake really), we stopped for a Mickey pretzel - because why the heck wouldn't you? 4 out of 5, as my favorite food group is carbs; this is always a golden choice for snacks.

Directly after this snack, I happened to notice that GROOT WAS DOING MEET-AND-GREETS, so of course I went and stood in line with 30 children to meet my leafy friend. Whomever the gentleman was playing him that day was wonderful - his warmth was tangible even through that barky suit. He patted me on the head, and wrapped me in a giant hug, then kissed my paws. I was in heaven!

After this, we headed back over to Disneyland side. For our lunch, we had reservations at the Jolly Holiday Cafe, which I highly recommend. The ability to plan out your trip ahead of time takes a lot of stress off the party, especially when it's a holiday on the Monday of your trip. (It was Lincoln's birthday, which we'd all forgotten was happening.)

Turkey sandwich is the perfect sammich for park excursions, with crisp lettuce and delicious fries. 4 out of 5.

For our party of four we got two orders of fried pickles, because they are absolutely delicious. 5 out of 5; could eat at least twice a day on the same trip.

If you need a little bit more of a substantial dish, then the penne pasta with shrimp is for you. Creamy and flavorful sauce, nice portion size. 3 out of 5. (Not really the right weather for this dish for me personally, but another of our party ate her entire plate!)

The best thing midday for active park visitors: the spinach salad with chicken hits the spot. Light but protein, fresh and tasty, this salad is definitely big enough for two people to split comfortably (which we did). 5 out of 5; I pretty much have this every trip.

And of course I had to visit the alcohol ride - specifically the Hearthstone Lounge in the Grand Californian to have my favorite Disney cocktail, the Smoked Turkey. A smoked cherry bourbon with fresh citrus and those delicious dark cherries, this is a cocktail I dream of. 5 out of 5; would have had three if I didn't have to drive home that night.

And, of course, no trip to Disney is complete without a churro or two. For me, it was the last snack I had before heading home, and the cart in New Orleans Square just before a rainstorm hit was perfect. Do churros really need a score? They're always on point and just what the Walt Disney ordered.

---
MickeyMousePark.com
Contact Us
Privacy
Payment Options
Disclaimer
Email Policy
Site Map
Clear Cookie
---
Copyright: (c) 1997-2021 by
ThrillMountain Software
---
MickeyMousePark.com is not associated in any official way with the Walt Disney Company,
its subsidiaries, or its affiliates. The official Disney site is available at
disney.com
Troubleshooting Info:

BrowserBrand: IE
LocalHost: NO
BrowserOS:
BrowserServer: mickeymousepark.com
BrowserAgent:CCBot/2.0 (https://commoncrawl.org/faq/)
BrowserURL:Page=5&Ident=3848
BrowserCurrentPage: /disneyland-article.aspx
Login: 0
FilterBy: 0
SortBy: 0
DB: MMParkA