Beloved Disneyland Rides And Attractions That No Longer Exist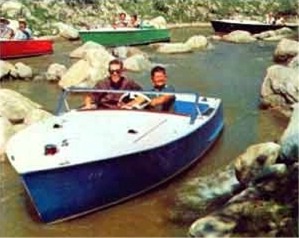 ID:
TMS-3876
Source:
cheatsheet.com
Author:
Jessie Quinn
Dateline:
Posted:
Status:
Current
Since its opening in 1955, Disneyland has seen a number of rides and attractions come and go. And while some of the rides were replaced with newer and better thrills, some are sorely missed.

Up ahead, we take a look at some of the most beloved Disneyland attractions that no longer exist.

1. Submarine Voyage

In 1959, Disneyland introduced one of its first E ticket rides (aka, more advanced or popular rides), Submarine Voyage. As part of a Tomorrowland and Fantasyland expansion, the ride simulated a submarine ride and featured underwater views of sea life. At one point in time, they even had real mermaids sunbathing on the rocks (we want that job!).

The original ride closed in 1998 and re-opened as Finding Nemo Submarine Voyage in 2007.

2. Rainbow Caverns Mine Train

If this ride reminds you of Big Thunder Mountain Railroad, that's because it sort of is. Similar to Finding Nemo Submarine Voyage, Big Thunder Mountain Railroad is built off of an original Disneyland attraction. Opened in 1956, Rainbow Caverns Mine Train was part of the park's Living Desert (which consisted of other frontier-type attractions) and featured a miniature train and various desert scenery.

Four years after its opening, Disney revamped the ride by adding animatronic animals (similar to the ones you see on Big Thunder) and a new name: Mine Train Through Nature's Wonderland. Due to its growing popularity, Disney closed the ride in 1977 to make room for a bigger and better version.

Although most of the original attraction was removed, Big Thunder's loading area sits in the heart of Rainbow Ridge.

3. Skyway

In 1956, Disneyland unveiled one of its most historic attractions yet: The Skyway. Built by Von Roll, the gondola-like attraction was the first Von Roll Type 101 aerial ropeway in the United States.

Originally used to transport guests back and forth from Tomorrowland and Fantasyland, the Skyway saw many roadblocks throughout its existence. Including, the expansion of Tomorrowland and Fantasyland, which put the new Matterhorn mountain right in its tracks.

To accommodate the attraction, Disneyland added a tunnel to the Matterhorn's blueprints and the Skyway operated through the pathway until its closure in 1994.

4. Flying Saucers

It's no secret that Walt Disney was obsessed with scientific developments and futuristic lifestyles - which is probably why Disneyland has experimented with so many Tomorrowland attractions over the years. One short lived attraction that is still talked about today? The Flying Saucers.

The infamous attraction utilized air pressure to simulate a hovering effect that would move the saucers around a small arena - sort of like futuristic bumper cars. That said, the ride was expensive to operate and didn't accommodate as many guests as Disney would have liked, so it closed for good in 1966.

The Tomorrowland Stage sits in its place today.

5. PeopleMover

Another Tomorrowland attraction that is no longer? The PeopleMover. Opened in 1967, the PeopleMover was like a cross between the Disneyland tram and the Monorail, only it was confined to one area and gave guests a bird's-eye view tour of Tomorrowland.

Fun fact: The phrase "people mover" comes from this attraction.

6. Rocket Rods

After the PeopleMover closed, its tracks were turned into a thrilling attraction called Rocket Rods. Opened in 1998, the ride was inspired by a futuristic type of transportation via an ultrafast rocket, of course. Unfortunately, the ride was cursed with a number of technical problems and was shut down in 2000 after two years of intermittent operation.

7. Motor Boat Cruise

In Disneyland's early years, there were many attractions dedicated to travel, including a boat ride called Motor Boat Cruise. Opened in 1957, the boats were sort of like the water version of Autopia. Guests boarded their own boats and cruised along a river by way of an underwater track.

---
MickeyMousePark.com
Contact Us
Privacy
Payment Options
Disclaimer
Email Policy
Site Map
Clear Cookie
---
Copyright: (c) 1997-2021 by
ThrillMountain Software
---
MickeyMousePark.com is not associated in any official way with the Walt Disney Company,
its subsidiaries, or its affiliates. The official Disney site is available at
disney.com
Troubleshooting Info:

BrowserBrand: IE
LocalHost: NO
BrowserOS:
BrowserServer: mickeymousepark.com
BrowserAgent:CCBot/2.0 (https://commoncrawl.org/faq/)
BrowserURL:Page=5&Ident=3876&FontSize=2
BrowserCurrentPage: /disneyland-article.aspx
Login: 0
FilterBy: 0
SortBy: 0
DB: MMParkA