15 Absolute Best Restaurants In Disneyland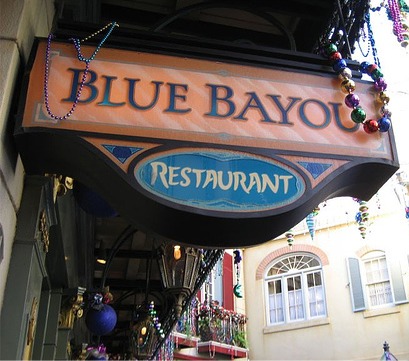 ID:
TMS-4343
Source:
delish.com
Author:
Tess Koman
Dateline:
Posted:
Status:
Current
From corn dogs to ultra-exclusive luxury dining, there's a place for everyone to eat at Disneyland. Here's a list of just some of the best in alphabetical order (it's too hard to rank them otherwise!). Hit 'em all on your next visit.

Blue Bayou

Right in the middle of the Pirates of the Caribbean ride, this sit-down restaurant excels at things you might think you don't want to eat on a 100-degree day, but really secretly do. I'm talking risotto, pasta, fish, and meat. The good stuff.

Cafe Orleans

Would you like a deep-fried sandwich to top off your already perfect and magical day? Excellent news! Cafe Orleans has exactly that. Oh! And Mickey-shaped beignets. Those are pretty excellent, too.

Carthay Circle

A little bit of luxury in the middle of California Adventure, this restaurant is both a total break from the chaos of the parks and magical in its own right. There's perfect waiter service (the steak's not bad either) and a perfect view of the fireworks if you're lucky enough to be seated on the balcony patio.

Clarabelle's

Apart from a Dole Whip—which you absolutely need to stop somewhere and get—Clarabelle's on Buena Vista street has the best ice cream in the park. There is hand-dipped ice cream galore and plenty of Mickey-themed frozen treats to choose from.

Club 33

The only problem with Club 33? You're likely never going to even step foot inside it. The uber-exclusive dining experience is limited to those willing to pay the reported $25,000 fee to do so. But word has it that once you're in, it is good.

Cocina Cucamonga Mexican Grill

Found on California Adventure's Pacific Wharf, this is the place to go if you're craving a quick-yet-hearty meal. People flock early for the burritos, tamales, and more, so it's best to get there as soon as you hit the area.

Flo's V8 Cafe

You'll want to get to Flo's early so as to ready yourself for the Cars Land rides' lines, but lucky for you, you can pre-order some bomb tamales and some pretty great miscellaneous vegetarian options to go.

Harbour Galley

Did you not come to Disneyland for a freshly made lobster roll, you amateur?

Jolly Holly Bakery Café

At first glance, your only options at this Main Street bakery are super sweet Mickey pastries and desserts that look like rides (Matterhorn Macaron, I'm looking at you), but the simple savory items they have are also worth your time: Grilled cheese is where they excel.

Lamplight Lounge

Pretty much anywhere you sit, you're going to get a spectacular view of the rest of the Pixar Pier. Take advantage of the copious cocktail options while you're there—even the mocktails are delicious.

Little Red Wagon

Haters will say this is just a corn dog stand, but those haters have never had these corn dogs. They are perfectly seasoned, fluffy and luxurious bites, all stacked on sticks for convenience's sake. The dream.

Maurice's Treats

You might walk right by this Magic Kingdom mainstay at first, but you should always double back and stop in—if just for a Red Rose Lemonade Freeze. It is cold and sweet and thick and gooooood.

Mint Julep Bar

Yes, you're supposed to get the Mickey beignets (don't forget to shake up the bag so as to properly distribute the powdered sugar!), but you're also supposed to get a—wait for it—mint julep. It is possibly the most refreshing drink to be had in all of Disneyland.

River Belle Terrace

There's lots of whimsy to be had at River Belle. Don't miss the Mickey pretzel or the Mickey pancakes or the monkey bread—remember, you have to fuel up for a big day ahead.

Royal Street Veranda

Six words for you: clam chowder in a sourdough bread bowl.

---
MickeyMousePark.com
---
Copyright: (c) 1997-2022 by
ThrillMountain Software
---
MickeyMousePark.com is not associated in any official way with the Walt Disney Company,
its subsidiaries, or its affiliates. The official Disney site is available at
disney.com
Troubleshooting Info:

BrowserBrand: IE
Mobile: NO
LocalHost: NO
BrowserOS:
BrowserServer: mickeymousepark.com
BrowserAgent:CCBot/2.0 (https://commoncrawl.org/faq/)
BrowserURL:Page=5&Ident=4343&FontSize=2
BrowserCurrentPage: /disneyland-article.aspx
Login: 0
FilterBy: 0
SortBy: 0
DB: MMParkA