Inside The Opening Week Of Star Wars Galaxys Edge At Disneyland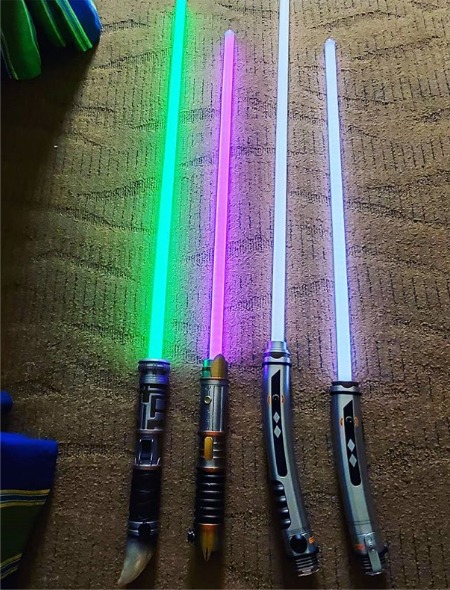 ID:
TMS-4364
Source:
coaster101.com
Author:
Eric
Dateline:
Posted:
Status:
Current
Sadly I wasn't able to attend the opening weekend of Galaxy's Edge at Disneyland. However, my good friend Michael Rhaney and his wife Laura are Disneyland locals and annual pass holders, which means they DID snag reservations for the first week of Star Wars: Galaxy's Edge. I decided to live vicariously through them and ask Michael all about the overall experience, how well the reservation systems worked and the crowds were, any tips for other folks going this first month, and more. (editors note: some of the interview has been edited for clarity)

Getting Into Galaxy's Edge and First Impressions

Eric, Coaster101: So you guys had two reservations the first week right? How did the whole entry process work?

Michael: Yeah, we had 11-3 on Sunday and 8-midnight Tuesday. Starting 2 hours before your time slot, you can go to Launch Bay in Tomorrowland, which is where check-in happens. Your whole group has to be there and you all get wristbands together, which they activate on the spot on your way out. If you don't get it activated, you can't get in. The launch Bay part had essentially zero wait both times.

So then when your time slot gets close, you go over to Hungry Bear in Critter country. They start letting people in a little before the time slot, but they corral you at certain spots to keep people from mobbing the limited attractions.

E: So did everyone entering go through the Critter Country entrance? (note, Galaxy's Edge has three entrances, one by Critter Country, one on either side of Big Thunder Mountain)

M: Yes, they use the other two as exits. The hungry bear part was a bit crazy. The first day we went they'd already started letting people in, so it wasn't too bad, but they'd made changes by our second visit, and that was a mob. They walk you back in stages, so we probably started walking back around 7:30 but didn't get in until right at 8.

E: So on your first visit, what was your first impression on entering?

M: The detail stood out. Specifically coming in from the Hungry Bear entrance, the X-Wing is one of the first things you see, and seeing it at scale is really impressive. And they clearly put a lot of thought and time into even the smallest things. There are so many little details that it's nearly overwhelming at times, and really easy to miss stuff. But, makes for fun repeat visits. But, it's a weird feeling for us to know Disneyland so intimately well, but feel basically lost in Galaxy's Edge.

E: Overall how full was it? Did it feel crowded?

M: I'd say it felt busy, but not crowded. Like a normal day in the rest of the park. We got lucky though, our time slots were both the last ones of the day, so we didn't have an overlapping group in our last hour. It's quiet over on the end where Rise of the Resistance will be, because there's not really anything over there other than a small kiosk shop and the X-Wing.

E: Visually how did it compare between day and night?

M: You can definitely see more of the detailing during the day, but it feels more like a remote outpost at night. The lighting overall was great, and because we stayed until the very end we got some great pictures of empty sections of the land.

Smuggler's Run

E: Alright, I assume you did Smuggler's Run day one?

M: Yep! We'd been watching wait times the day before and knew to wait later into our time to go, so we rode it twice each visit. Max wait was 40 minutes.

E: What was the queue like?

M: The entrance to it is right next to the Falcon, and winds around behind before taking you into the hangar. There is an engine hanging from the ceiling they're working on, and the voice overs are from other people in the shipping company. So you wind your way through to the first staging area where they split you to either side of the room and you're given your mission. You're supposed to pull of a train heist (a la Solo).

E: Who knew Star Wars had so many trains!

M: Hah, seriously. So then you move into the next area and they split you into groups. The ride seats 6, broken into 3 pairs (2 pilots, 2 gunners, 2 engineers). Once you have your six and your role, you go into the last staging area which is the interior of the Falcon. You get a color coded card for your group, and they call out colors. So you just hang out in the Falcon until your color is called.

E: So how'd you guys do on the first attempt? Was there variation between the runs?

M: We didn't know it at the time, but pretty well, disconnected 2 train cars! There is some variation depending on how you do. On one of the runs we managed to do something we failed to in the other three, so we saw a slightly different scene. So yeah, depending on what you do the script differs, but the mission is always the same. I've heard that the longest scenes are at the end if you do REALLY badly.

E: Can you explain the roles a little bit? What were your favorites?

M: Sure, so the gunners are shooting down enemy ships and breaking loose train cars, the engineers are repairing the shields and harpooning the train cars, and the pilots control the direction and speed (one does L-R movement and boosts/breaks, the other does up/down movement and jumps to lightspeed). I liked the pilot the best.

E: Overall what'd you think?

M: Definitely up there as one of my favorite rides. I'm a fan of ride through arcade games like Midway Mania and Astroblasters, so combine that with Star Wars and it's hard not to really like it! I will say the teams of six make for a lot of variability, because you've either got random other people or go without a full 6. I think it'll end up like Radiator Springs Racers with a fast-moving Single Rider Line (editors note: Awesome!).

Star Wars Characters

E: So I've read there are lots of characters walking around, but in a much more immersive theater/organic kind of way. Did you see anyone neat?

M: Yeah, it's definitely more interactive/organic. Chewie was walking around last night interacting with people. We met Vi Moradi before we knew who she was. We didn't really interact with her though, because we didn't know who she was. She just asked if we were enjoying our visit to Batuu. Apparently if you hang around long enough there's an acrobatic chase through the streets, but we didn't see that yet.

E: Pick up on any of the lingo?

M: Rising Moons is the one you hear the most often, it seems like the standard greeting.

Galaxy's Edge Food, Drink, and Merch

E: So what was your first visit when you got into the land?

M: The milk stand.

E: Haha, awesome, how were they?

M: We got both the blue and the green. They're like smoothies, and taste kind of candy-like. Consensus was the blue one tasted like bubble gum and the green one was some kind of citrus candy. It's way better than it sounds, though, we liked them both. They're on the sweet side, but the base is still rice and coconut milks.

E: Did you make it into the Cantina?

M: The first day they had just implemented the virtual queue, but nobody knew what was going on. So we wound up being too far back to get in. But we were able to on the seond visit, we bee lined to signups as soon as we got in and only had about a half hour wait before they called us in.

E: How was it? Drinks, service? Did they let you hang out in it?

M: They don't really kick you out, but there is a 2 drink max. They say it's a 45 minute cap, but they weren't enforcing it when we were there. We tried four of the drinks. They're definitely not as good as getting fresh cocktails at like Carthay Circle, they're all premixed on tap, but they're still tasty. Probably similar to Trader Sams, but maybe not as strong. I liked mine, the Bespin Fizz, because it came with a sealed piece of dry ice that made it smoke. Laura's favorite was the one that came in the Star Wars Tiki Mug (which was the Yub Nub), because it came in a Star Wars Tiki Mug (editors note: I agree with this choice).

E: How 'bout food? What did you eat, and how was it overall?

M: The food was all good. I think the snack we got from the Ronto Roasters was both of our favorite so far. It's basically a hot dog topped with slaw, chopped pork, and a tangy sauce on a pita. Really good. We also had dinner last night at the Docking Bay 7. We got the roast and the ribs, both of which were good. Both places had short lines when we went, but it was on the late side for lunch/dinner both times. We also got the two desserts at the Docking Bay, both of which were really good. The places all have their own sets of drinks, too, all of which were tasty.

E: Did you go into the shops? Get any good merchandise?

M: We checked out the bazaar the first day. The shops are a lot of fun, and probably the most detailed part of the area. there are a couple places that do toys, a first order shop, resistance shop, and the Den of Antiquities. We didn't try to do the build your own light sabers or the build your own droids, though. If we had we probably wouldn't have been able to see everything else. We ended up getting a stuffed Yoda and a little music box that plays the Imperial March. We really wanted to get one of the special gift cards that looks like "interstellar credit", but they were sold out.

E: Alright Mike, any final thoughts on Galaxy's Edge now that I've gotten all jealous?

M: I think I'd just say that even though we've spent 8 hours and done a lot of what they have to offer, it still feels like there's tons more to see and do. The desire to keep going back is still super high.

E: Cool, so no one is going to leave when it stops being 4 hours windows, hah.

M: Certainly a possibility!