New Rise Of The Resistance Ride Actually Reveals Secret Star Wars History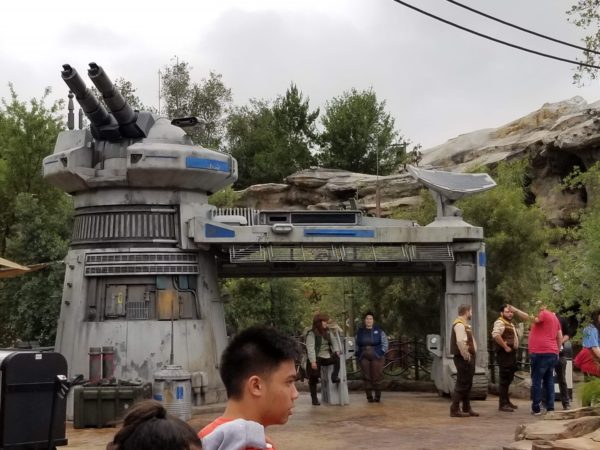 ID:
TMS-4586
Source:
narcity.com
Author:
Zach Richter
Dateline:
Posted:
Status:
Current
Disneyland's newest Star Wars ride just opened in Anaheim and fans can't seem to get enough. But there's something that even super fans might not know. There's actually hidden clues that tell you about secret Star Wars history scattered throughout the Rise of the Resistance ride.

Guests start out in the middle of the action, hiding out in a rebel outpost in an ancient cavern. Those pesky First Order troops are everywhere!

If you haven't gotten the chance to ride it yet, we'll give you some major tips. The fun starts before you even get on the ride. While you're in the queue, make sure to take a look around. There's history everywhere you turn.

Since you're set on the remote planet of Batuu, you probably know that it's steeped in rich Star Wars history.

One super interesting aspect of the ride involves the ancient caves you'll be exploring. According to the Orange County Register, Imagineering and Lucasfilm developed a whole detailed backstory about them.

The first thing you'll notice when you enter the line is a massive rebel gun turret at the entrance, with two full-size starships sitting close by. What we'd give to drive one of those!

The cavern room is dripping in (fake) mold and mildew along the walls and tool mark carvings are seen, to show the primitive way of life for ancient civilizations.

High-tech equipment covering the Resistance compound contrasts with the primitive carvings on the walls, and this modern and ancient balance shows riders the rich history of the caves.

From an ancient herb drying room transformed into a space-age communications center to a goods room being developed into an ammunition armory, Rise of the Resistance teaches us a history lesson on how things have changed for the planet.

The attraction developers actually got ideas for the ride from a mix of Middle Eastern, Greek, and Roman civilizations.

As Walt Disney Imagineering art director Kirstin Makela puts it, "We would see something that was really cool from an actual earthbound ancient civilization and think of how we could put that Star Wars twist on it."

The attraction just opened on January 17 and it's already a huge hit. Fans even lined up at 2 a.m. to try and snag a spot on the ride for opening day.

Here's to hoping that the lines die down soon and we can all go and experience a day in the life of Star Wars' history.

---
MickeyMousePark.com
Contact Us
Privacy
Payment Options
Disclaimer
Email Policy
Site Map
Clear Cookie
---
Copyright: (c) 1997-2021 by
ThrillMountain Software
---
MickeyMousePark.com is not associated in any official way with the Walt Disney Company,
its subsidiaries, or its affiliates. The official Disney site is available at
disney.com
Troubleshooting Info:

BrowserBrand: IE
LocalHost: NO
BrowserOS:
BrowserServer: mickeymousepark.com
BrowserAgent:CCBot/2.0 (https://commoncrawl.org/faq/)
BrowserURL:Page=5&Ident=4586
BrowserCurrentPage: /disneyland-article.aspx
Login: 0
FilterBy: 0
SortBy: 0
DB: MMParkA