What Is Happening With Indiana Jones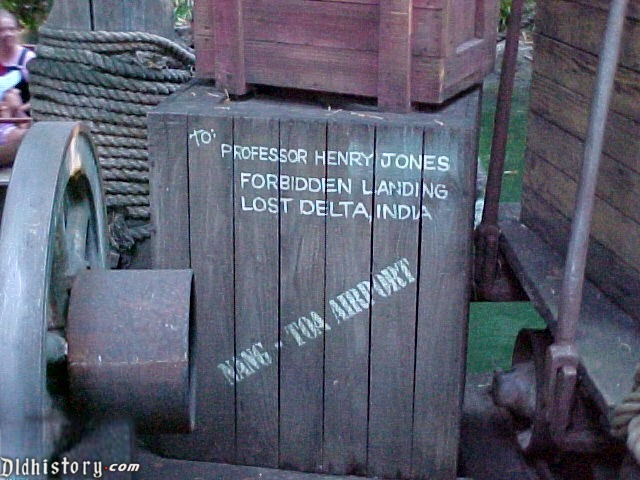 ID:
TMS-4702
Source:
insidethemagic.net
Author:
Bailee Abell
Dateline:
Posted:
Status:
Current
Indiana Jones Adventure is one of the most beloved attractions at Disneyland Resort — and there are a lot of rides at Disneyland and Disney California Adventure. Last year, it was announced that it would undergo a lengthy, much-needed refurbishment…but what can we expect from the refurb, and is it still happening at this Disney Park?

If you remember all of the hype for Star Wars: Rise of the Resistance when the state-of-the-art attraction opened in January 2020 at Star Wars: Galaxy's Edge, it is said that quite a similar reaction was felt for Indiana Jones Adventure when the ride opened in 1995 (and, perhaps not so coincidentally, both attractions are themed after Lucasfilm IP). It's been well over two decades since Indy opened at the Happiest Place on Earth, and it continues to be one of the most popular rides to this day.

However, just over a year ago, Disney officials shared that the Adventureland attraction would undergo some renovations (which many argue are for the better and well-deserved). Here's everything we know about the scheduled refurb and when we think the attraction will finally reopen at Disneyland Park.

Indiana Jones Adventure, a True Disneyland Icon

Indiana Jones Adventure is a fan-favorite ride at the Happiest Place on Earth. Themed after the Lucasfilm Indiana Jones film franchise starring Harrison Ford, there is so much to love about this Disney Park attraction and its rich, decades-long history (with plenty of ups and downs). Below is the official attraction description, courtesy of the Disneyland Resort website:

An Ancient Legend

Follow Indy's footsteps into the crumbling Temple of the Forbidden Eye past intricate booby traps. Inspect carvings and frescos that tell the story of Mara, a powerful deity who promises great treasures—and vengeance to those foolish enough to gaze into its all-seeing eyes.

Brave Unimaginable Perils

Board a rugged troop transport and enter the Chamber of Destiny. Confront inconceivable dangers, like precarious precipices over molten lava, screaming mummies, swarms of giant insects, spear-throwing wraiths, collapsing bridges, slithering snakes—and a massive rolling boulder.

If you find yourself in jeopardy, only one man is brave enough—or crazy enough—to save you… Dr. Jones!

Know Before You Go

Indiana Jones Adventure is neither a roller coaster nor a typical slow-speed attraction like Haunted Mansion. You'll board a 12-person vehicle for a fast-paced thrill ride that realistically simulates quick driving over rough terrain.

Attraction Refurbishment Announced for 2020 In late 2019 — months before Disneyland and Disney California Adventure began their temporary closure as a result of the ongoing pandemic — the Orange County Register shared that, according to Disney officials and a recent permit, Indiana Jones Adventure would undergo a refurbishment in 2020.

The perpetually collapsing bridge traversing a perilous molten lava flow in the crumbling Temple of the Forbidden Eye will finally get repaired after nearly a quarter century when Disneyland's Indiana Jones Adventure attraction undergoes a renovation in 2020.

Disneyland filed a building permit with the city of Anaheim for a $300,000 overhaul of Indiana Jones Adventure, according to city records.

Disneyland officials confirmed the Indiana Jones Adventure motion-based dark ride is scheduled for refurbishment in 2020…Disneyland crews will replace a plank bridge and its steel structure in the show set of the Indiana Jones Adventure attraction and refurbish rockwork, according to the building permit.

It's no surprise that the attraction was scheduled to undergo a lengthy refurbishment. The Indiana Jones-themed ride, although a Guest favorite for decades, experiences more than its fair share of breakdowns and issues in any given week at the original Disney Park. Many Guests and longtime fans of the attraction note that it has been quite a long time since every effect worked properly (and its sister attraction, DINOSAUR at Disney's Animal Kingdom at Walt Disney World in Florida, is plagued by similar issues).

Toward the beginning of 2020, a Disney fan and Reddit user u/relavis took to the Disneyland Subreddit to share "a comprehensive list of every effect that is currently broken/malfunctioning/damaged," at the time the post was published. As a warning this list is labeled under the "Not Safe for Magic" category on r/Disneyland, so only read ahead if you are willing. Otherwise, just scroll to the next section of this article.

Indiana Jones Adventure - A comprehensive list of every effect that is currently broken/malfunctioning/damaged

Not Safe For Magic

I'm an avid fan of Indiana Jones Adventure. I am at Disneyland around four to five times a week, and I have extensive knowledge of the Indiana Jones Adventure attraction. It makes me sad, but the attraction itself is in a state of disrepair. I'm writing this list to keep track of what effects are currently broken. I'll be listing every single effect that has been removed from the attraction, even if it's not coming back.

Queue:

The motor outside that simulates generating power for the queue's lights no longer spins. This effect has been repaired but at a diminished speed. 2/28/20

The timing of the bamboo-held ceiling retracting is not in sync with the audio

The radio in Rotunda is no longer lit up. 3/2/20 This effect has been fixed. Quick turnover! 3/3/20

The faux film reels above the film room are often not rotating in sync, ruining the illusion of an actual film reel Effect works as intended. Edited 2/26/20

The film reel motors have started squeaking. 12/28/20 Fixed. 3/3/20

The lamp that is upstairs (next to the two DAS elevators) has burned out and no longer lights

Chamber of Destiny:

All ride vehicles seem to be experiencing a "lag" while traveling over the switch track. 2/28/20 No longer an observed issue. Fixed 3/2/20.

The mirrors on the left-hand-side of the ride vehicle no longer swing out

The walls of the Chamber of Destiny no longer move, and therefore the ride vehicle no longer enters through the simulated "left" or "right" doors

The projection effects for the Fountain of Eternal Youth are often not in sync with the doors swinging open

Hall of Promise:

Often times, the glimmering lights seen in the Chamber of Earthly Riches do not glitter and are static. This is likely due to a fan that has burned out.

The lighting inside the "true" exit of the Chamber of Earthly Riches is diminished, which is most likely a result of conventional light bulbs that have burned out

Tunnel of Torment:

The floor is supposed to be covered in fog to hide the fact that there is a track.

Because of poor maintenance to the cars, the ride vehicle no longer feels like it is "floating" towards the Gates of Doom. The car itself still tilts as if it is floating, but the actual movement of the vehicle on the track is shaky, ruining the illusion of floating.

The silhouette of Indiana Jones is often left on for too long, revealing the fact that the silhouette is actually a gel inserted into a conventional light, and NOT a light being shined onto the audio-animatronic

The Indiana Jones audio-animatronic no longer fully closes the Gates of Doom, which ruins the effect of the ride vehicle falling to the ground.

Overlook:

Oftentimes, the fire in Mara's eye is not lit. This is probably due to a failure of lighting the fire after a downtime.

There is no longer rubble falling from the ceiling. Originally, dyed ice would fall out of a hatch in the ceiling to simulate rubble. The sound of rubble falling can still be heard.

Mummy Chamber:

The set of three skeletons that come down towards the ride vehicle are not moving. They are in the "up" position." currently missing. Edited 2/28/20.

Bug Room:

During the second projection sequence, the right left headlight of the car does not have a projection. Position of headlight has changed. 2/28/20

The Pit:

The bridge ropes no longer sway.

The right-hand-side snake does not emit smoke with it's green light. The left snake was recently fixed to emit smoke. Effect fixed. 2/28/20

The pit of lava below the vehicle is no longer filled with fog.

The pit of lava below the vehicle is no longer lit by the magma sections.

Snake Temple:

Snake audio-animatronic's fangs no longer unfold Effect fixed. 2/28/20

Mud Slide:

The fireball nearest the ride vehicle does not light. 2/28/20 Effect fixed. 3/3/20

Skull:

The candle with a flame wick that is shaped like Tinkerbelle is no longer lit.

The black light effect used to display the spirit of Mara is very diminished and hard to see.

Rat Cave:

The black light used to add light to the physical branches on the right-hand-side of the ride vehicle has been disabled.

The fog used for projection of the rats and branches is often not enough to project a full image.

Dart Room:

The final skeleton set on the wall, also used as an emergency exit, is now always in the "open" position. This causes the skeleton's heads to be detached from the bodies.

Boulder Room:

It is a recurring theme that, due to timing issues and guest control at the load station, the ball will not roll, or the effect will be put into B mode, where the boulder does not roll as far as to give time to reset for the next car to get the full A mode.

Return to Base:

The Indiana Jones audio-animatronic's mouth does not move. moves very minimally. 2/28/20

I hope that this list might assist some of the maintenance workers with fixing these issues.

Was the Indiana Jones Adventure refurbishment postponed, or is it finished?

Per the original announcement of the refurbishment, Disney never revealed when exactly the ride renovations would take place. Indiana Jones Adventure celebrated its 25th anniversary at the theme park in March, and the OC Register reported that the refurbishment could take place after then (or before, but that we soon discovered that never happened). However, the ride was operating (with the occasional breakdown) throughout early 2020, leaving many Guests wondering when they would be able to experience it after all of the improvements were made.

Keep in mind that after the California Disney Parks began their temporary closure in mid-March, all construction was put on hold. Later on, though, construction crews came back to the theme parks and were able to work on projects like the refurbishments of Snow White's Scary Adventures, Haunted Mansion, and King Arthur's Carrousel, as well as the construction of new projects like Avengers Campus in Disney California Adventure and Mickey & Minnie's Runaway Railway in Toontown. But where did that leave Indiana Jones Adventure? There is a chance that the refurbishment was postponed, though nothing is for certain.

Not much chatter was circulating the web when it comes to the Indiana Jones ride. The attraction is so tucked away in Adventureland that aerial cameras don't often catch whatever is happening with the ride. And while many suspect that the refurbishment is still in the works and planned, some are a bit wary, and others theorize that it will take place later in 2021. Note that, currently, no attractions are listed as under refurbishment on the Disneyland Resort official website. At the time of this article's publication, Disney has not officially shared any updates about this attraction's refurbishment since it was initially announced a year ago. So, for this ride, anything goes.

When will Indiana Jones Adventure reopen?

So, when will Indiana Jones Adventure reopen? There could be a few different factors at play here.

First — and most obvious — Disneyland is currently closed. The theme park will not be allowed to reopen until COVID-19 cases significantly decrease, according to the current guidelines enacted by California Governor Gavin Newsom. So, if Disneyland reopens sometime in 2021 and all of the usual attractions are operating, then we can expect Indiana Jones Adventures to reopen, too. If the attraction is still under refurbishment, though, or if it takes a bit longer for Disneyland to reopen the ride for whatever reason, we may not be able to experience it ASAP.

However, there is something to consider. There is a chance that, when Disneyland Park reopens, some attractions will not. For example, many fans have noted that Finding Nemo Submarine Voyage will very likely not reopen in the pandemic era — or perhaps will never open again. The submarines are a prime example of an attraction that packs Guests into such a tight space that it is nearly impossible to distance oneself from another party. And since we now live in a time when the spread of disease is much more of a concern, health officials, the State of California, and even Disney may not be inclined to reopen an attraction with such little air circulation.

In conjunction with this, it is entirely possible that Indiana Jones Adventure will not be allowed to reopen as soon as Disneyland reopens. While part of the attraction queue is outdoors, a lot of it is indoors and quite close quarters. Depending on the status of COVID-19 transmission in Southern California when Disneyland is allowed to reopen, and depending on theme park reopening guidelines at that time, there is a chance that indoor attractions with queues that do not allow for much distancing will not reopen in the first phase of Disneyland reopening. That is speculation, however, and we won't make any assumptions until a reopening date is announced for the Disneyland Resort theme parks (and, therefore, the attractions they house).