Everything You Need To Know About Sit Down Dining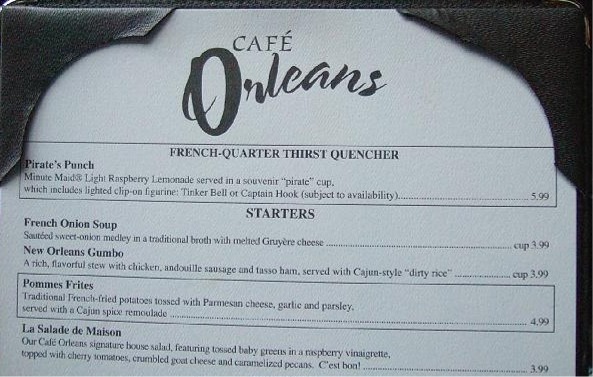 ID:
TMS-4815
Source:
insidethemagic.net
Author:
Krysten Swensen
Dateline:
Posted:
Status:
Current
Pretzels and popcorn and churros, oh my! When it comes to dining at the Disneyland Resort, there are over 100 food locations that will fit the taste buds of anyone who walks through the magical gates. Making dining choices at Disneyland can seem overwhelming, especially when Guests are figuring out which sit-down dining locations will be best for their party.

When talking about sit-down dining at Disneyland, it is important to know exactly what that is. A sit-down restaurant — which can also be called a table service restaurant — is considered any restaurant where Guests are seated by a host, receive menus, and are waited on by Cast Members. The other two Disneyland dining options are snack carts and quick-service locations where Guests order their food at a counter.

Sit-down restaurants will cost Guests more money than their snack and quick-service counterparts, so it is important for Guests to know their options before they decide to splurge. Here is your ultimate guide to sit-down dining at the Disneyland Resort.

Restaurants at Disneyland Park If you would like to spend your day at Disneyland Park, there are several table service locations for you to choose from.

Blue Bayou

Blue Bayou may be the most well-known sit-down restaurant on Disneyland property. Even if people don't know its name, they are sure to know it as the restaurant inside the popular Pirates of the Caribbean attraction. The high-end eatery can be found in New Orleans Square and features classic American dishes with a Louisiana twist.

If you have never been to Blue Bayou, here is more information on the restaurant from the Disneyland website:

Step into perpetual twilight as the nighttime ambiance of the watery setting surrounds you. Spot Guests embarking on a Pirates of the Caribbean adventure, as you enjoy an authentic New Orleans-inspired lunch or dinner. It's a truly unique setting where the bayou is, literally, by you!

Blue Bayou has been a must-visit destination for many Disneyland Resort Guests since its opening in 1967. Its mystical setting takes you into the heart of the South—overhead strings of colorful balloon lanterns cast an enchanting glow, dotting the darkness while crickets chirp, frogs croak and fireflies wink in the dark.

Guests dining at Blue Bayou can enjoy a number of tasty offerings, including Gumbo, Jambalaya, and Lobster Tail.

Blue Bayou is open to Guests for both lunch and dinner.

Café Orleans

Also located in New Orleans Square, Café Orleans has similar Louisiana-style fare, but in a more relaxed environment and at a much lower price point. The restaurant is famous for its delectable Monte Cristo sandwich — a deep-fried concoction made with turkey, ham, and Swiss cheese and served with a berry purée.

The combination may sound odd, but people will venture to Café Orleans just to be able to enjoy the massive sandwich. For those who may not want a Monte Cristo there are also a number of other delicious offers, including the La Salade de Maison and Shrimp and Grits.

Like Blue Bayou, Café Orleans is also only open for lunch and dinner.

River Belle Terrace

A third Disneyland dining location that offers a sit-down experience is the River Belle Terrace. This scrumptious spot might be next to Pirates of the Caribbean, which is part of New Orleans Square, but the River Belle Terrace is technically a part of Frontierland.

Guests dining at River Belle Terrace will get a menu full of Southern-style food with an elegant flare. Barbecue lovers will be able to purchase a huge pulled pork sandwich and brisket macaroni and cheese. And be sure to try River Belle's homemade pimento cheese appetizer and monkey bread for dessert.

Like both Blue Bayou and Café Orleans, River Belle Terrace is also only open for lunch and dinner.

Carnation Café

The final sit-down dining option available to Disneyland Park Guests is a Main Street, U.S.A., staple, Carnation Café. Guests dining at Carnation Café will be transported back in time to the Victorian era. Carnation Café delivers a ton of comfort food classics, including fried pickles, meatloaf, and Walt's Famous Chili.

Unlike the other sit-down dining locations at Disneyland Park, Carnation Café is open for breakfast, lunch, and dinner.

Restaurants at Disney California Adventure Park Like Disneyland, Disney California Adventure Park also only has several sit-down dining experiences. Both theme parks are more focused on snacks and counter-service locations, as a number of Guests like to eat quickly, so they can get back to the rides and character experiences.

Here's what table-service restaurants are available at Disney California Adventure.

Carthay Circle

Not only is Carthay Circle the most expensive restaurant at California Adventure, but it is also one of the most expensive restaurants on Disneyland property. Carthay Circle takes Guests back to the roaring 1920s in its theming as well as its cocktail offerings.

Carthay Circle is the perfect spot for those who want a high-end experience without having to leave the theme park. Popular dishes at Carthay Circle include pork chops, grilled fish, and the restaurant's famous cheddar rolls.

Carthay Circle is currently only open for dinner service.

Lamplight Lounge

Formerly known as Ariel's Grotto, the Lamplight Lounge underwent a major Pixar retheme and opened back up on the also newly rethemed Pixar Pier. Along with the decorative retheme, there was also a menu retheme and Guests dining at the Lamplight Lounge can dine on delicious burgers, tuna rolls, and the famous lobster nachos that made the cut from the restaurant's prior occupation.

The Lamplight Lounge is open daily for lunch and dinner, but on the weekends, Guests can enjoy dishes like Lamplight Chilaquiles, potato flautas, and French toast at the Lamplight Lounge Brunch.

Wine Country Trattoria

Wine Country Trattoria is located in what is considered the Pacific Wharf area of California Adventure, but it is not on the wharf itself. Win Country Trattoria is located diagonally across from the entrance to Cars Land.

True to the "Trattoria" in its name, Wine Country Trattoria delivers classic, mouthwatering Italian fare.

Savor a taste of Italy with fresh takes on classic Italian-inspired dishes. Start off your meal with bruschetta, fried calamari or caprese salad. The selection of pasta plates will have you exclaiming "perfetto" with choices like spaghetti Bolognese, fettuccine shrimp Alfredo, and roasted vegetable lasagna.

Specialties of the house also include rib-eye steak, chicken Parmesan and grilled salmon.

Since no meal is complete without something sweet, try the tiramisu. If your preference is for something liquid, try one of our dessert wines or cocktails for an exquisite ending to your Italian feast.

Wine Country Trattoria is open daily to Guests for both lunch and dinner.

Dining at Downtown Disney

Unlike Disneyland and Disney California Adventure, Downtown Disney is chock-full of sit-down restaurants. There's a slew of choices that are sure to please all taste buds.

Here's a look at all of the incredible offerings at Downtown Disney.

Ballast Point

Ballast Point is not only a restaurant but a brewery as well. The popular dining location only opened in 2019, but it was an immediate hit.

True to its Southern California brewery origins, Ballast Point offers a variety of "pub grub" with a California twist — including Baja fish tacos, duck wings, and a Ballast Point burger, among a number of other delectable choices.

Ballast Point is open for both Brunch and Lunch/Dinner. The lunch and dinner menus are the same, but the brunch menu varies and offers things like tater tot hash and chicken and waffles.

Catal / UVA Bar

If you are looking for a more Mediterranean-inspired menu, then Catal is sure to satisfy your craving. This modern restaurant serves up some big flavors at a reasonable price.

Bask in the elegance of fine dining with delicious seafoods, sizzling steaks and delectable salads.

The illustrious Patina Restaurant Group delivers the concept of Catal—modern interpretations of classic Mediterranean specialties, designed to satisfy even the most discerning of appetites.

While UVA Bar and Catal are technically the same restaurant, UVA Bar is a more relaxed environment. Here is more information on the fun spot from the Disneyland website:

Enjoy a more casual dining experience downstairs, offering both indoor and outdoor seating. With a full bar, premium draft beers, over 40 wines by the glass, tasty tapas and daily happy hours, Uva Bar is the perfect place to convene for conversation and good times—at breakfast, lunch or dinner!

La Brea Bakery

In the mood for a more casual dining experience that will give you your day's worth of carbs? Then La Brea Bakery is the spot for you! Located closest to both Disneyland and California Adventure, La Brea Bakery specializes in a number of craft sandwiches and California-inspired dishes.

La Brea Bakery is open for breakfast, lunch, and dinner. There is also a La Brea Bakery Express where you can grab sandwiches and pastries on the go!

Naples Ristorante e Bar

If you are feeling a craving for some delicious Italian, but you aren't in California Adventure, then you definitely need to check out Naples Ristorante e Bar. This classic Italian restaurant not only has a mouth-watering menu full of Italian classics like lasagna and gnocchi, but it also has one heck of an extensive pizza menu.

Pizzas at Naples come in 3 size options — a 10 inch, a 20 inch and a 1/2 meter. There are also a ton of toppings options, and you can either select one of the many pizzas on the menu or if you want, you can build your own!

Naples Ristorante e Bar is open to Guests for both lunch and dinner.

Ralph Brennan's Jazz Kitchen

Café Orleans and Blue Bayou aren't the only places where you can get some amazing Cajun-inspired cuisine. For some truly authentic Southern, Lousiana-style grub, head on down to Ralph Brennan's Jazz Kitchen.

For over fifty years, Ralph Brennan and his family have proudly served the finest Louisiana ingredients and our Chef, Darrin Finkel, has peppered those celebrated flavors throughout our menus. The Jazz Kitchen boasts festive, 'Big Easy themed' private party facilities and comprehensive event planning services. From our mouthwatering Louisiana cuisine to the live jazz played at Flambeaux's every night, every detail of the Jazz Kitchen delivers on the promise of New Orleans.

While you can always get the traditional beignets for dessert, the double chocolate bread pudding is really what they are known for. It is prepared fresh per order, so if you decide on the rich, sweet dessert, you have to order it at the beginning of your meal. It is truly the perfect way to end one heck of a meal.

Ralph Brennan's Jazz Kitchen seats Guests for both lunch and dinner.

Splitsville Luxury Lanes

Splitsville Luxury Lanes may be mainly a bowling alley, but it is no ordinary bowling alley. Splitville is known for its delicious cocktails and even more delicious, and extensive menu. Portions at Splitsville are big, so it is always fun to go there with a few friends and share a couple of dishes.

Splitsville has everything from queso blanco fries (truly a must-get) to sushi and sandwiches. You can bowl while you eat, so the fun will be part of your whole meal!

Tortilla Jo's

Maybe you're visiting Downtown Disney on a hot day and you're looking for something with a little kick. Well, then make your way to Tortilla Jo's, located right across from Ralph Brennan's Jazz Kitchen. Tortilla Jo's is where you can get your fill of classic Mexican dishes.

Tortilla Jo's is open for breakfast, lunch, and dinner, so Guests can get anything from huevos rancheros and breakfast burritos to tacos, enchiladas, and margaritas.

Dining at Disneyland Resort Hotels There are three hotels on Disneyland Resort property — the Disneyland Hotel, Paradise Pier Hotel, and Disney's Grand Californian Hotel & Spa. Most of the dining options at the hotels are either buffet-style or quick service. However, there is one restaurant where you can splurge and have a truly magical evening.

Napa Rose

Located at Disney's Grand Californian Hotel & Spa, Napa Rose isn't the biggest restaurant on property, but the food packs a punch and is sure to be memorable.

Napa Rose does not serve your average restaurant food, so more adventurous eaters will love the tasting trip they can go on. Napa Rose offers high-end dishes like suckling pig, King Hiramasa Crudo, and roasted lamb.

Napa Rose is only open for dinner at this time.

Tipping and Reservations at Sit-Down Restaurants

Tipping

While the amount you tip is completely up to you, standard tipping practices dictate that an 18% to 20% tip should be left for good service. Cast Members are trained to go above and beyond for all theme park Guests, so if you feel that your waiter has gone the extra mile, feel free to tip more!

Reservations

Reservations are not required to eat at any Disneyland Resort restaurant. That being said, reservations are highly recommended. Guests can make their Disney dining reservations up to 60 days in advance, so the more popular restaurants can fill up quickly.

There are several ways Disneyland Resort Guests can make a dining reservation. The first is going right on the Disneyland website. From there, you can browse all of the restaurants on Disney property, or you can simply enter the restaurant you would like to eat at into the search bar. Once you have found the restaurant you want to eat at, go to that restaurant's page and enter the date you want to see all availability.

If you have several restaurants you are considering eating at, you can check all restaurant availability for the date you want on the restaurant list main page.

Guests can also make reservations right on the Disneyland app! Simply go on your Disneyland app, hit the plus button at the bottom of the screen, and then press "Check Dining Availability". From there you can see all of the restaurants, or just check the one you would like to eat at.

The third way you can make a dining reservation is simply by going to the restaurant and ask them if they have any availability for that day or whatever day of your trip you would like. If you are trying to get a same-day reservation, be prepared for the possibility of no availability, but there is a chance another day will be free.

If you have traveled just to Downtown Disney and have parked in the Simba Parking Lot — which is the lot by Downtown Disney and the Disneyland Hotel — then be aware that parking can be expensive. However, if you enjoy a meal at any of the table-service restaurants there, they will validate your parking and you will receive 5 hours for free! Having that much time will not only allow you to have a relaxing dinner but also enjoy the many shops Downtown Disney has to offer.

Forget to Make a Reservation? Join a Walkup Waitlist!

One of the new additions to the Disneyland app is the availability of Guests to join a walkup waitlist for several restaurants at Disneyland Resort. Guests at Disneyland can go on the app and search for the restaurant they would like to eat at. If that restaurant has a walkup waitlist, then all you have to do is hit "Join Walkup Waitlist" and then go about your day! The restaurant will let you know when it is your turn to dine.

Here is a list of Disneyland Resort restaurants that currently have a walkup waitlist.

Disneyland Park

River Belle Terrace

Café Orleans

Oga's Cantina (Star Wars: Galaxy's Edge bar)

Disney California Adventure

Carthay Circle

Lamplight Lounge

Wine Country Trattoria

Downtown Disney/Disneyland Hotels

Napa Rose

Storytellers Café (buffet dining at Grand Californian)

GCH Craftsman Bar (Lounge at Grand Californian)

Trader Sam's Enchanted Tiki Bar (Bar at Disneyland Hotel)

It is important to note that not all restaurants that participate in a walkup waitlist will have dining availability at all times. Check the Disneyland app for the most up-to-date information on joining a walkup waitlist.

Bring Your Tastebuds!

We hope that you have found this ultimate guide to sit-down dining at Disneyland Resort helpful in planning some of your Disney meals! While table-service meals make up only a small number of food choices available at Disneyland, they may be some of the best meals you have during your trip.