Canoe Down The Rivers Of America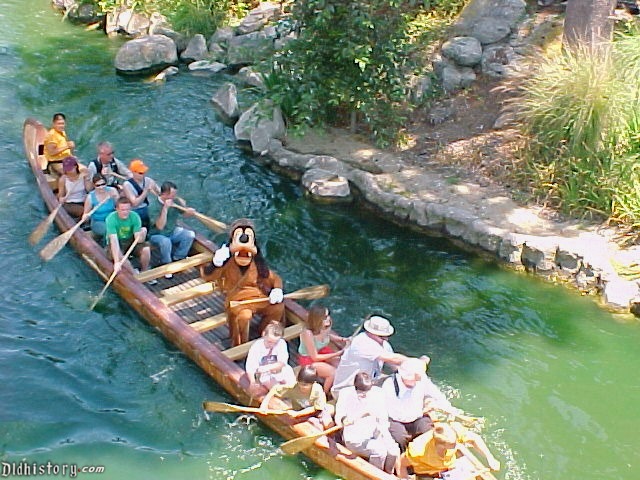 ID:
TMS-4850
Source:
thekingdominsider.com
Author:
Kristin Swan
Dateline:
Posted:
Status:
Current
Insiders, did you know you could canoe down the Rivers of America at Disneyland Resort? If not, or if you did and have yet to experience it, you are in for a treat! Davy Crockett's Explorer Canoes gives you the chance to paddle down the most famous river at Disneyland on a grand oar-venture all the way around Pirate's Lair on Tom Sawyer Island. This attraction is a great way to cool off from a warm day at the park and a great way to get a bit of arm and core exercise in, and even better a chance to get off your feet from walking the park all day long!

Per the Disneyland website:

You'll glide past the north bank of the Columbia Gorge, complete with a beautiful waterfront and 5 sparkling waterfalls.

Take in the sights and sounds of 3 different lands—the backwoods of Frontierland, the wrought-iron railings of New Orleans Square and the peak of Chick-A-Pin Hill towering over Critter Country.

Sharp-eyed explorers can spot iconic locales, including an idyllic Native American village, and frontier wildlife like moose and beavers.

The canoe rides transport you into the wild frontier and experience sites and sounds that you can only experience from the canoes, the Sailing Ship Columbia, or the Mark Twain Riverboat. Davy Crockett's Explorer Canoes were named after the 19th century icon and lets you travel back to a time when water was the way to go. The 20-passenger vessels are real, free-floating canoes; there is no motor and no track. Modeled after the boats that early Native American and European explorers used, these 35-foot-long canoes are powered entirely by paddles.

This attraction was one of the few that did not reopen when Disneyland Resort reopened during the pandemic. It reopened late this past summer and Guests have been overjoyed at being able to once again paddle around Tom Sawyer's Island, breathing in the fresh air and soaking in that warm California sunshine. And if you're worried about the paddling being too intense, fear not because most of the paddling is more for fun than actual propulsion. The river guides who sit in the fore and aft of the canoe are capable of navigating the waters by themselves. This expedition is one you won't want to miss next you visit Disneyland Park!

---
MickeyMousePark.com
---
Copyright: (c) 1997-2023 by
ThrillMountain Software
---
MickeyMousePark.com is not associated in any official way with the Walt Disney Company,
its subsidiaries, or its affiliates. The official Disney site is available at
disney.com
Troubleshooting Info:

BrowserBrand: IE
Mobile: NO
LocalHost: NO
BrowserOS:
BrowserServer: mickeymousepark.com
BrowserAgent:CCBot/2.0 (https://commoncrawl.org/faq/)
BrowserURL:Page=5&Ident=4850
BrowserCurrentPage: /disneyland-article.aspx
Login: 0
FilterBy: 0
SortBy: 0
DB: MMParkB