Huge Crowds Flood Disneyland Guests Wait Hours As Star Wars Attraction Enacts Standby Queue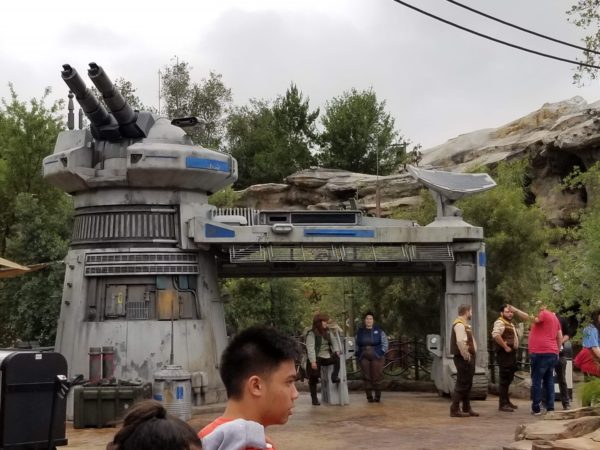 ID:
TMS-4877
Source:
insidethemagic.net
Author:
Alessa Dufresne
Dateline:
Posted:
Status:
Current
Lately, we have seen some of the Disney Parks divert from virtual queues to move to a standby queue.

With Disney Genie already available at Walt Disney World Resort, moving some of the virtual queues into standby made a lot of sense, as virtual eliminated the incentive for Guests to purchase Disney Genie+ or any of the additional attraction Lightning Lane tickets. Now that Disneyland is preparing to roll out the same system, we have seen a similar shift. Just like Disney's Hollywood Studios, Disneyland Park is currently testing their Rise of the Resistance attraction in Star Wars: Galaxy's Edge to be a standby queue, just like WEB SLINGERS: A Spider-Man Adventure.

The change has now been implemented in the Park, and it seems to have caused mass crowds this morning! Wonders of Magic (@wonders_of_magic) took to Instagram to share photos and videos of the giant crowds waiting to enter Batuu this morning.

The Instagram post noted:

Starting today Disneyland is not requiring guests to join a boarding group to enter arise of the Resistance

The Park opened at 8:00 a.m., and within 30 minutes, Wonders of Magic returned to Instagram to note that the wait time was already over two and a half hours. We saw a similar spike at Walt Disney World when a standby queue was enacted. However, it seemed some Guests had better luck in the evening by entering the line near Park-close. Once Disney Genie is available at Disneyland, Guests will be able to purchase an individual Lightning Lane ticket for Rise of the Resistance. This will be separate cost from Disney Genie+, which is $20.00 per Guest per day. At Disney World, the price fluctuates but stays around $15.00 for a single ride per person.

Below is what Disney has to say about Disneyland's upcoming Disney Genie addition:

We're almost ready to let Disney Genie out of the lamp!

Coming this fall to the Disneyland Resort, Disney Genie is a complimentary and convenient new digital service designed to create your best Disney day. We've been listening to your feedback —you want planning to be easier, you want more flexibility and you want better tools to help you make the most of your visit—and that's exactly what Disney Genie is here to do. We've made significant investments in this cool new technology, which guides you through our theme parks with tips that can help you reduce time in lines, discover magic around every corner and take the guesswork out of "what's next."

Built as a new digital service in the Disneyland app, Disney Genie service will maximize your park time, so you can have more fun. It includes a personalized itinerary feature that will quickly and seamlessly map out an entire day. From specific attractions, foodie experiences and entertainment, to general interests like Disney princesses, villains, Pixar, Star Wars, thrill rides and more—just tell Disney Genie what you want to do and it will do the planning for you.

Here are a few more features:

Get Itinerary Updates from Morning to Night: Disney Genie will continue to update your itinerary throughout your day, so you can be more spontaneous and go with the flow.

Find Your Favorites at a Glance: Create your very own personal tip board to instantly see your favorites. It will display current AND forecasted future wait times, helping you predict when you might experience quicker entry to attractions.

Enjoy More Flexibility and Fun: Disney Genie brings existing planning features together in one place. Join a virtual queue at certain attractions, make dining and experience reservations, mobile order food at many locations, get help from a virtual assistant and more.

Disney describes Rise of the Resistance as:

An Attraction on a Scale That Is Impressive, Most Impressive Star Wars: Rise of the Resistance is a massive attraction with multiple ride systems that is unlike anything you've ever experienced at the Disneyland Resort… or anywhere else in the galaxy! Accept a Mission from the Resistance The Resistance needs your help! Hidden in the forest outside Black Spire Outpost, the Resistance is gathering recruits for a secret mission.

With the First Order desperate to extinguish the spark of the Resistance, the mission is bound to have unexpected twists and turns. When your transport is captured by an imposing First Order Star Destroyer filled with legions of stormtroopers—and even Kylo Ren!—you're going to need all the help you can get. Fortunately, a covert team of Resistance fighters—including Rey and BB-8—is at the ready to give you a fighting chance to escape… and a chance for the Resistance to rise.

Prepare for a thrilling, first-of-its-kind adventure!

Disney still has virtual queue instructions on the Disneyland website, so it seems that the testing phase is not yet permanent.

---
MickeyMousePark.com
---
Copyright: (c) 1997-2022 by
ThrillMountain Software
---
MickeyMousePark.com is not associated in any official way with the Walt Disney Company,
its subsidiaries, or its affiliates. The official Disney site is available at
disney.com
Troubleshooting Info:

BrowserBrand: IE
Mobile: NO
LocalHost: NO
BrowserOS:
BrowserServer: mickeymousepark.com
BrowserAgent:CCBot/2.0 (https://commoncrawl.org/faq/)
BrowserURL:Page=5&Ident=4877
BrowserCurrentPage: /disneyland-article.aspx
Login: 0
FilterBy: 0
SortBy: 0
DB: MMParkA