Fantasmic Show Times Announced For Disneyland Return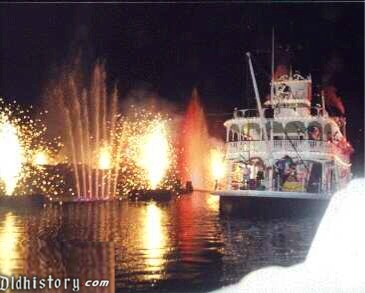 ID:
TMS-5012
Source:
themeparktourist.com
Author:
Dateline:
Posted:
Status:
Current
It has now been announced on the official Disneyland Resort website that Fantasmic! will be performed at 9:00PM and 10:30PM from Saturday May 28, 2022. These showtimes are subject to change so be sure to check out the calendar before you go just in case a change has been made.

Walt Disney World fans are still eagerly awaiting news of when Fantasmic! will restart at Disney's Hollywood Studios. Unfortunately there still hasn't been an official announcement from Disney regarding a reopening date and on the official Walt Disney World website it continues to just say "Returning 2022!".

February 23 - We found out back in November 2021 that Disneyland would continue its phased reopening of its nighttime spectaculars in Spring 2022.

It has just been announced that the extremely popular nighttime spectacular, Fantasmic! will return to Disneyland Park on May 28, 2022. This is great for Disneyland fans as the news seems like it has been a long time coming.

Fantasmic! first premiered at Disneyland in 1992 with cutting-edge special effects and storytelling using the space of the Rivers of America. This iconic show has changed through the years and was finally given a complete overhaul in 2017 including a range of new scenes. Disneyland fans sometimes refer to this version as Fantasmic 2.0.

Fantasmic! will be performed nightly from May 28 in Frontierland with scenes from Disney classics including The Lion King, Tangled, Aladdin and Pirates of the Caribbean, all appearing on and around the Rivers of America.

We are still waiting for news of when Fantasmic! will return to Disney's Hollywood Studios at Walt Disney World but with the return date announced for Disneyland, we are hoping we will have an answer for you very soon.

---
---
Copyright: (c) 1997-2022 by
ThrillMountain Software
---
MickeyMousePark.com is not associated in any official way with the Walt Disney Company,
its subsidiaries, or its affiliates. The official Disney site is available at
disney.com
Troubleshooting Info:

BrowserBrand: IE
LocalHost: NO
BrowserOS:
BrowserServer: mickeymousepark.com
BrowserAgent:CCBot/2.0 (https://commoncrawl.org/faq/)
BrowserURL:Page=5&Ident=5012
BrowserCurrentPage: /disneyland-article.aspx
Login: 0
FilterBy: 0
SortBy: 0
DB: MMParkA