Space Mountain Classic Zooms Back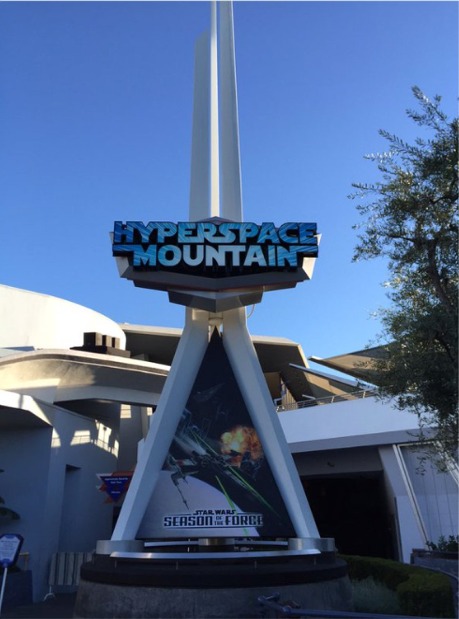 ID:
TMS-3599
Source:
NBC Los Angeles
Author:
Alysia Gray Painter
Dateline:
Posted:
Status:
Current
If you were in Disneyland Park on May 27, 1977, you A) might have been sporting culottes, tube socks, feathered bangs, or one of the other awesome looks from the time and B) you might have been talking about the opening of "Star Wars," which had only been out for 48 hours and C) you surely were imploring your pals to ride the brand-new, outta-sight Space Mountain.

We won't even be trite and say something along the lines of "it's hard to believe Space Mountain is 40 years old" - same goes for "Star Wars" - for space is cold and vast and eternal and stretches backwards and forwards, endlessly, making the nature of time a topic of non-discussion.

Except in this case: Hyperspace Mountain, which debuted in November 2015 as part of the "Seasons of the Force" event at Disneyland Park, is enjoying its very final, do-it-now, "Star Wars"-themed runs.

Which means this: Space Mountain Classic, the rockin', non-Force-related thrill ride, will zoom back into our nostalgia-embracing lives on Thursday, June 1.

You've of course heard of June Gloom? Call Space Mountain's return June zoom, if using such a phrase appeals.

And here's another "of course," if you're up for it: Of course, you shouldn't be surprised should Space Mountain Ghost Galaxy, the autumntime overlay of the Tomorrowland attraction, return in early September when Halloween Time at Disneyland opens.

What's your favorite moment on the Space Mountain classic ride? The countdown before final "take-off"? Waving at the cast member up in the booth seconds into your trip? Or the final seconds when pop! Your photo is taken?

Surely you and your friends decided in advance about what comical pose you'd assume?

Or do you love all of it, the music, the speedy spins, and the cold dark of starry space?

It's a galactically gargantuan obsession that's lasted for four decades, and through a few cosmic incarnations, at the world's most celebrated theme park.

---
MickeyMousePark.com
Contact Us
Privacy
Payment Options
Disclaimer
Email Policy
Site Map
Clear Cookie
---
Copyright: (c) 1997-2020 by
ThrillMountain Software
---
MickeyMousePark.com is not associated in any official way with the Walt Disney Company,
its subsidiaries, or its affiliates. The official Disney site is available at
disney.com
Troubleshooting Info:

BrowserBrand: IE
LocalHost: NO
BrowserOS:
BrowserServer: mickeymousepark.com
BrowserAgent:CCBot/2.0 (https://commoncrawl.org/faq/)
BrowserURL:Page=5&Ident=3599
BrowserCurrentPage: /disneyland-article.aspx
Login: 0
FilterBy: 0
SortBy: 0