20 Best Places To Rest With Kids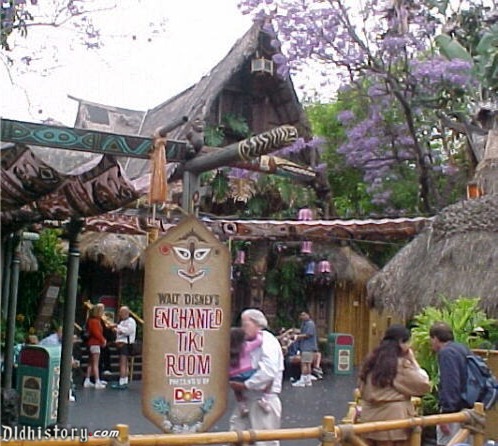 ID:
TMS-4064
Source:
travelpulse.com
Author:
Megan Dubois
Dateline:
Posted:
Status:
Current
Disneyland is a magical place filled with excitement and a ton of things to do. After walking around all day, your feet and your kids' feet will most likely start to hurt, and everyone is going to need a little break from the warm California weather. But where to go? There are plenty of places across Disneyland and Disney California Adventure for a break-places like slow-moving dark attractions and quick service dining locations.

The Disney Gallery and Great Moments with Mr. Lincoln

Located right on Main Street U.S.A. at Disneyland Park, the Disney Gallery is the holding room for Great Moments With Mr. Lincoln. This area is filled with artifacts and highlights from the rich history of Disney. There are a few benches, but the best part is that the whole space is filled with California's greatest import-air conditioning, which is great for hot park days. Once the doors open for Great Moments With Mr. Lincoln, enjoy the show and rest in a theater-style chair.

Walt Disney's Enchanted Tiki Room

Just past the entrance to Adventureland is Walt Disney's Enchanted Tiki Room. One of the best parts about this classic attraction is that guests can bring their Dole Whip right into the theater. Benches are there for guests to take a seat in and enjoy the show.

The Tropical Hideaway

The newest quick service location at Disneyland Park is The Tropical Hideaway. This is a great place to grab lunch and relax while enjoying the beautiful California weather. Some of the highlights on the menu are boa buns and a light and refreshing Raman shaker with ginger dressing. Sit down and stay a while, because you never know who you will see popping in.

The Disneyland Railroad

Walt Disney loved trains, which is why there is a full circle train track around Disneyland. When it's time for your family to rest and get off their feet for a while, hop in the Disneyland Railroad. There are four locations to hop on-Main Street U.S.A., New Orleans Square, Mickey's Toontown and Tomorrowland. Ride around the park as many times as you like.

Haunted Mansion

Slow-moving dark attractions are one of the best spots to rest, even if it's just for a few moments. A ride through the Haunted Mansion lasts about seven minutes, which is sometimes all you need to feel like you can get through another hour at the park.

Pirates of the Caribbean

This Walt Disney classic attraction takes guests past the Blue Bayou restaurant into the caves and caverns of the Caribbean. This is truly a perfect place to rest because the attraction is about 15 minutes long, but your family will still be entertained just by taking the boat journey.

Pirates Lair on Tom Sawyer's Island

Catch the raft over to Tom Sawyer's Island and watch the world go by at one of the picnic tables. Because Tom Sawyer's Island is set apart from the rest of Disneyland Park, it can be very quiet and perfect for resting, allowing little ones to take a nap and eating a snack.

Mark Twain Riverboat

The Mark Twain Riverboat makes a grand tour around the Rivers of America. Included in the ride are great views, a breeze and places to sit and rest for a while. Be sure to watch out for people canoeing and guests enjoying their tie on Tom Sawyer's Island.

Royal Theatre

There is so much to do in Fantasyland, and Storytelling at the Royal Theatre is a great spot to take a breather. Mr. Smythe and Mr. Jones will take you on a journey with their versions of scenes from Beauty and the Beast or Tangled. Each of these presentations last approximately 22 minutes, which is perfect for families who are looking for a longer rest spot at Disneyland.

River Belle Terrace

River Belle Terrace is a great casual dining location at Disneyland. Inside guests will find classic American food like beef short ribs, pulled pork sandwiches and fried chicken sandwiches. Reservations are fairly easy to get, and the time spent here resting and fueling back up for more Disneyland fun will be well worth the stop.

Disneyland Monorail

With a pickup station in Tomorrowland, the Disneyland Monorail is a fun way to see more of the Disneyland Resort, with stops at Downtown Disney District and The Disneyland Hotel. Guests can stay on for as long as they please and can even ask to ride in the front of the monorail train!

Star Wars Launch Bay

Star Wars fans of all ages have a home at the Star Wars Launch Bay. In this space, guests can explore galleries of Star Wars models and costumes, meet Star Wars characters and just hang out for a while. This is a great space for parents to sit and watch while their kids explore and learn something new about a galaxy far far away.

Red Car Trolley

Families can jump on the Red Car Trolley at Disney California Adventure for a ride through Buena Vista Street and Hollywood Land. Trolleys run about every eight minutes and guests are not required to get off at each stop.

Animation Academy

Inside the Animation Academy, your family can find a space filled with the magic of Disney Animation and refuge from the warm California sun. Here you can learn to draw favorite Disney characters, create your own animation in the Magic Mirror Realm in The Beast's Library and chat with Crush from Finding Nemo at Turtle Talk with Crush.

Live at the Hyperion

For one hour your family can rest and enjoy a Broadway-style production of Disney's Frozen. This show does fill up almost every performance, so be sure to line up early or reserve a spot with a dining package at one of Disney California Adventure's restaurants.

Walt Disney Imagineering Blue Sky Cellar

Located in the Pacific Wharf area of Disney California Adventure, the Blue Sky Cellar is an interactive exhibit where guests can see how Walt Disney Imagineers go from "blue sky" ideas to full guest ready attraction or land. There are quite a few benches in this space for adults to sit while kids explore-or for kids to rest while adults explore.

Lamplight Lounge

Lamplight Lounge recently debuted at Pixar Pier with great fanfare. Guests without reservations can wait in a line to be seated on the outdoor patio or inside. The patio is usually much quicker for families looking for something quick to snack on. The views from the patio are amazing. They look over the Pixar Pal-A-Round and The Incredicoaster.

The Little Mermaid - Ariel's Undersea Adventure

Your family can hop aboard a clamshell for this slow-moving dark ride and see the story of The Little Mermaid come to life. While the ride is relatively short at seven minutes, it's a nice spot to rest for just a short while, especially at the end of the night when the family starts to get tired after walking around Pixar Pier.

Clarabelle's Hand-Scooped Ice Cream

An ice cream break is always a good idea. When it comes to getting the sweet treat at Disney California Adventure, Clarabelle's is the perfect spot. Guests can choose their favorite flavor and toppings for a truly personalized treat. Once you have your ice cream, head outside to rest at a patio table.

Sunset Showcase Theater

Inside Sunset Showcase Theater is where Disney regularly shows previews and clips from movies that are debuting soon. When there aren't previews of new movies, guests can find three Pixar shorts playing in 3-D. Enjoy some short films and seeing what's coming to a silver screen near you.

---
MickeyMousePark.com
---
Copyright: (c) 1997-2022 by
ThrillMountain Software
---
MickeyMousePark.com is not associated in any official way with the Walt Disney Company,
its subsidiaries, or its affiliates. The official Disney site is available at
disney.com
Troubleshooting Info:

BrowserBrand: IE
Mobile: NO
LocalHost: NO
BrowserOS:
BrowserServer: mickeymousepark.com
BrowserAgent:CCBot/2.0 (https://commoncrawl.org/faq/)
BrowserURL:Page=5&Ident=4064
BrowserCurrentPage: /disneyland-article.aspx
Login: 0
FilterBy: 0
SortBy: 0
DB: MMParkB