Tomorrowland And Walts Bathroom Of The Future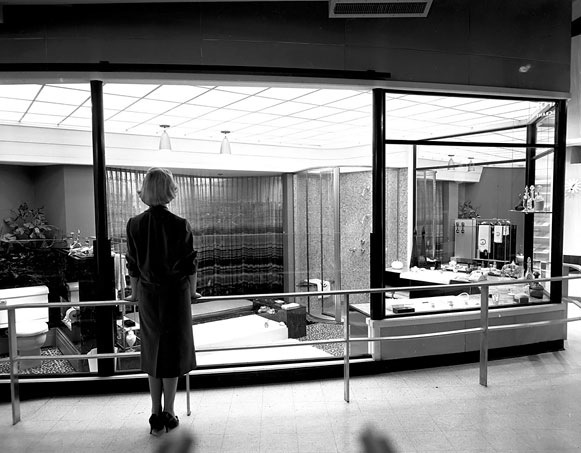 ID:
TMS-4644
Source:
attractionsmagazine.com
Author:
Jake Goldberg
Dateline:
Posted:
Status:
Current
The year is 1954, and construction for Disneyland park is in full swing. The many creative faces of WED Enterprises were hard at work so that it would reach its ambitious opening date in 1955. Scaffolders were placing finishing touches on the rugged cliffs of Adventureland, engineers were developing the precise movements of Abraham Lincoln, and Walt Disney himself was faced with a massive decision.

Due to the park's opening date looming over Walt's head, he was forced to partake in massive budget cuts to seize its arrival. Cutbacks were to be made throughout the park, and he was forced to consider opening Disneyland without the soon-to-be-famous Tomorrowland.

Walt always had a special place for the idea of Tomorrowland; this wouldn't just be a themed area where guests could glide through the sky on tiny mechanical rockets, but it would serve as a cornerstone of new ideas and revolutionary technology. Tomorrowland was designed to be a utopia that provided guests with a glimpse of the future.

While tomorrow's ideas came at the cost of a pretty penny, Walt refused to allow a version of Disneyland that wouldn't incorporate Tomorrowland. He believed that the land was an integral part of the park and decided to have it partially opened on the grand opening date. When that day arrived, guests could enjoy a quick, scenic trip around the winding highways of Autopia or take a gander through Monsanto's Hall of Chemistry.

As Tomorrowland began to pick up steam in popularity, more and more attractions were slowly added into the land. A couple of months later, visitors could take a trip to the moon on a rocket ship and venture onto the phantom boats across the lagoon.

While Tomorrowland grew closer to Walt's original vision of the future, it was still in need of some 'quick fixes.' These fixes would come in the form of short and replaceable exhibits to capture the spirit of Tomorrowland. While these weren't high-thrill E-Ticket attractions, these experiences would come in the form of educational walk-throughs. These would include 'Our Future in Colors,' an interactive walk-through to teach families the miracle of color sponsored by Dutch Boy Paints, and 'Kaiser Aluminum Hall of Fame.' However, none of these exhibits were quite as unique as what was around the corner.

In 1956, the words 'The Bathroom of the Future' were first sketched onto a Disneyland map. This was not your typical, run-of-the-mill bathroom stall, but a fully-fledged Tomorrowland exhibit. The attraction was brought to life through the Crane Plumbing Company and was designed to advertise "This fabulous bathroom, actually designed for the future, is available for your home today!" In the spirit of this unusual attraction, a less-traditional opening ceremony was required. Instead of cutting a bright red ribbon, Walt had a valve-turning opening to welcome guests into the building.

As with the spirit of Disneyland, all attractions will one day meet their end. The Bathroom of Tomorrow quickly became a thing of the past just after four years of operation. While it impacts the park's history was minor, it will perhaps always be remembered as one of Disney's most bizarre theme park endeavors.

---
MickeyMousePark.com
---
Copyright: (c) 1997-2023 by
ThrillMountain Software
---
MickeyMousePark.com is not associated in any official way with the Walt Disney Company,
its subsidiaries, or its affiliates. The official Disney site is available at
disney.com
Troubleshooting Info:

BrowserBrand: IE
Mobile: NO
LocalHost: NO
BrowserOS:
BrowserServer: mickeymousepark.com
BrowserAgent:CCBot/2.0 (https://commoncrawl.org/faq/)
BrowserURL:Page=5&Ident=4644
BrowserCurrentPage: /disneyland-article.aspx
Login: 0
FilterBy: 0
SortBy: 0
DB: MMParkB