Do You Remember These Old Attractions At Disneyland And DCA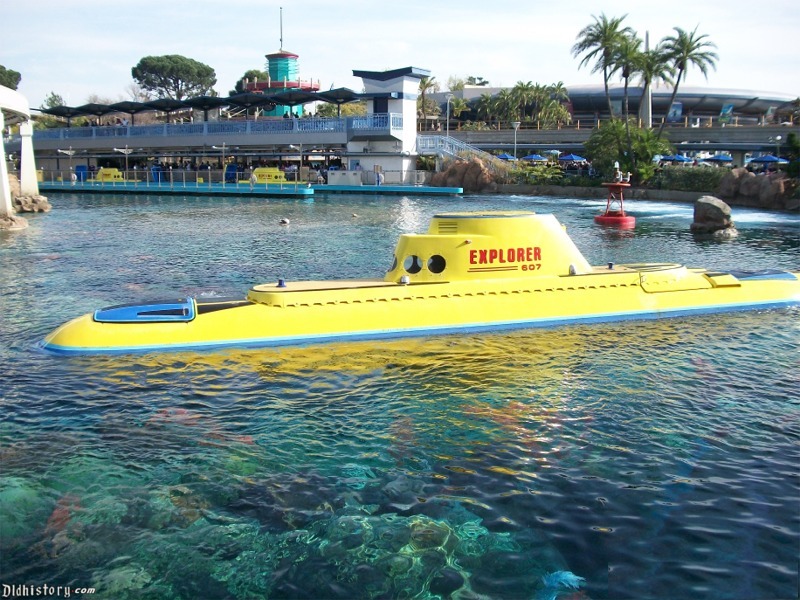 ID:
TMS-4646
Source:
thekingdominsider.com
Author:
Kristin Swan
Dateline:
Posted:
Status:
Current
Disneyland has been my second home since I was a little girl. So many things have changed in both parks over the years and I think about old attractions quite often as they are part of my childhood memories. One of the great things about Disney that separates them from other theme parks is that they are consistently changing and ever evolving. Walt Disney once said, "Disneyland will never be completed. It will continue to grow as long as there is imagination left in the world." Sadly, sometimes Disney has to take out old attractions and replace them with new rides or to make room for more lands. While it is sad when they take out beloved rides and attractions we all love, there is palpable excitement amongst Disney fans all over the world as we all look forward to what comes next. Here is to taking a moment to remember times of old, good memories, and the things that replaced them so that we may make new magical memories!

Big Thunder Ranch

Behind Big Thunder Mountain in Frontierland there used to be Big Thunder Ranch. This area had a walk-through log cabin and a petting zoo that included farm animals such as goats and a Donkey named Pocahontas. There was an outdoor dining area called Big Thunder Barbecue and I fondly remember Woody and Jesse making their rounds to take pictures with everyone as they ate and did arts and crafts at their wooden picnic tables. This area closed in 2016 and it now serves as one of the entrances to Star Wars Land.

Submarine Voyage

I was 8 years old when this Tomorrowland attraction closed in 1998, but I still remember the original submarines that took the dive into the "deep blue sea." The big hit in this area back when it opened was the tropical lagoon that featured live mermaids flippin' their fins on a rock and splashing in the water. These mermaids were of course cast members, but it must have been a magical experience to watch them in the summer seasons as you passed by the Submarine Voyage (the mermaids were only featured for a couple seasons after the attraction opened)! After the attraction closed, it remained empty until Disneyland turned it into the Finding Nemo Submarine Voyage in 2007. The mermaids have been replaced by the beloved seagulls from Finding Nemo that hilariously squawk "Mine! Mine! Mine!"

A Bug's Land in DCA

This is the most recent change at Disney California Adventure and lots of Disney fans, including myself, had a hard time with this one. Bug's Land was one of a kind because the towering trees and structures made me feel like I had entered an entirely different world-a bug's world. This area catered especially to children with attractions such as Flik's Flyers and Heimlich's Chew Train (ugh, so cute!), along with a water play area. The other much loved attraction in Bug's Land was the show It's Tough to Be a Bug! There was always this sense of bubbling excitement every time I walked into the ant cave and heard the crickets in the walls, knowing that when I took my seat I was about to have a 3-D experience with the characters from A Bug's Life (the spiders dropping from the ceiling got me every time!). A Bug's Land closed in 2018 and Disney started construction on Marvel Land. Marvel Land was supposed to open July of this year, but due to COVID-19 and park closures we are all eagerly awaiting a new opening date!

'Disney's Aladdin-A Musical Spectacular' at the Hyperion Theater

Does anyone else miss watching Aladdin and Jasmine flying on the magic carpet in the Aladdin show? No matter how many times I watched this beloved show at the Hyperion Theater in California Adventure, I was already looking forward to watching it again a million times over. The set was just jaw-dropping and the Broadway-style production definitely made me feel like I was in a "whole new world" for the entire 45 minutes I was sitting on the edge of my seat. This show didn't just take place on stage; the characters went out into the audience as they sang and danced and interacted with everyone in the audience. Let's not forget the best character in the entire show, the Genie! His humor and jokes changed consistently to stay relevant with what was going on with current events and trends. I remember the jokes being so good the show had to pause for a significant amount of time because the audience would be laughing and clapping for so long! The show ended in 2016 (it's already been 4 years?!), and was replaced by Frozen-Live at the Hyperion. The newer Frozen show is full of Olaf's warm hugs and Elsa's magic, but I definitely miss the Aladdin show and hope it makes a return one day!

---
MickeyMousePark.com
---
Copyright: (c) 1997-2023 by
ThrillMountain Software
---
MickeyMousePark.com is not associated in any official way with the Walt Disney Company,
its subsidiaries, or its affiliates. The official Disney site is available at
disney.com
Troubleshooting Info:

BrowserBrand: IE
Mobile: NO
LocalHost: NO
BrowserOS:
BrowserServer: mickeymousepark.com
BrowserAgent:CCBot/2.0 (https://commoncrawl.org/faq/)
BrowserURL:Page=5&Ident=4646
BrowserCurrentPage: /disneyland-article.aspx
Login: 0
FilterBy: 0
SortBy: 0
DB: MMParkA