Adventure Thru Inner Space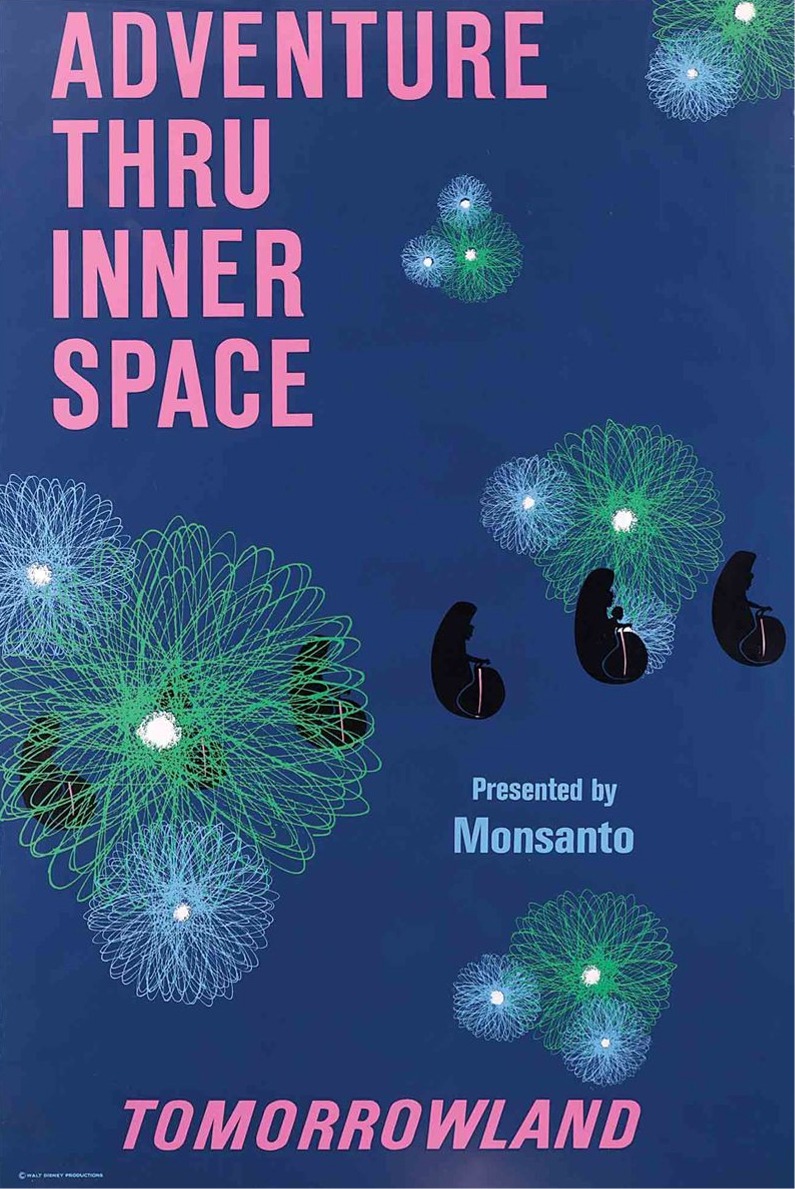 Last Updated: September 8, 2023
Is visited by quests aboard futuristic "Atomobiles." Guests appear to "shrink" gradually for a journey into the exciting realm of the atom, followed by an experience with Miracles from Molecules. Entering a Mighty Microscope, visitors move right into a tiny snow flake, through walls of crystal-like ice and into the atom where the nucleus resembles a sun. After this enlightening journey into the atom, guests return to the "bigger world" where they witness modern miracles to make today's world more comfortable and convenient. This trip into inner space is provided by the highly versatile Omnimover WEDway Transportation System. It carries "Atomobiles," which move through the adventure without stopping, even when guests are boarding or leaving. Passengers step from a turn-table platform that revolves in synchronization with the slowly moving two-passenger cars. Presented by Monsanto Company.
ID:
TMS-423
---
---
Dates Open:
---
---
Replaced By:
---
---
Land:
---
---
Photos:
Construction: 10 Onstage: 15 Backstage: 1
---
---
Articles:
42
---
---
Ride Layout:
---
---
Ride Duration:
6 minutes
---
---
Deaths Injuries:
Deaths: 0 Injuries: 0
---
---
Video Stream:
---
---
Video Length:
06:06
---
---
Video Excerpt:
---
---
Rumble Link:
---
---
Movie Tie-In:
---
---
Google Maps:
---
---
Wikipedia:
---
---
Patents:
3554130
---
---
SPECIFICATIONS
---
Theoretical Capacity:
2090 per hour

THEORETICAL CAPACITY
This figure is what the attraction should yield under ideal conditions utilizing all units in the system with no loss in efficiency at any position. This figure should be seldom or never attained. It is an ideal against which to measure.
---
Instantanous Capacity: 232
---
Audience Control Capacity: 1341
---
Capacity Per Unit:
2

CAPACITY PER UNIT
Capacity for each vehicle or show
---
Cycle Time:
6:59

CYCLE TIME
From the time a unit passes any given point in the cycle until it returns to that same point.
---
Unload Time:
0:15

UNLOAD TIME
From the time the guest(s) begins to unload until he is clear of the unit and the unit may be safely moved or loaded.
---
Load Time:
0:25

LOAD TIME
From the time the guest(s) begins to enter the unit until the guest(s) is seated and the unit is safe to dispatch.
---
Trip Time:
6:02

TRIP TIME
From dispatch to unload.
---
Dispatch Interval:
0:03

DISPATCH INTERVAL
The time interval between the dispatching of units.
---
Trips Per Hour: 1045
---
Distance: 681 feet
---
Speed: 1.00 MPH
---
---
Adventure Thru Inner Space Photos:
Adventure Thru Inner Space Articles:
Show/Hide
Adventure Thru Inner Space See Also:
Show/Hide
Adventure Thru Inner Space Miscellaneous:
Show/Hide

---
MickeyMousePark.com
---
Copyright: (c) 1997-2023 by
ThrillMountain Software
---
MickeyMousePark.com is not associated in any official way with the Walt Disney Company,
its subsidiaries, or its affiliates. The official Disney site is available at
disney.com
Troubleshooting Info:

BrowserBrand: IE
Mobile: NO
LocalHost: NO
BrowserOS:
BrowserServer: mickeymousepark.com
BrowserAgent:CCBot/2.0 (https://commoncrawl.org/faq/)
BrowserURL:Page=3&Ident=423
BrowserCurrentPage: /disneyland-attraction.aspx
Login: 0
FilterBy: 0
SortBy: 0
DB: MMParkA